In Memoriam "Our Jewel"

Lady Leatha S. Wright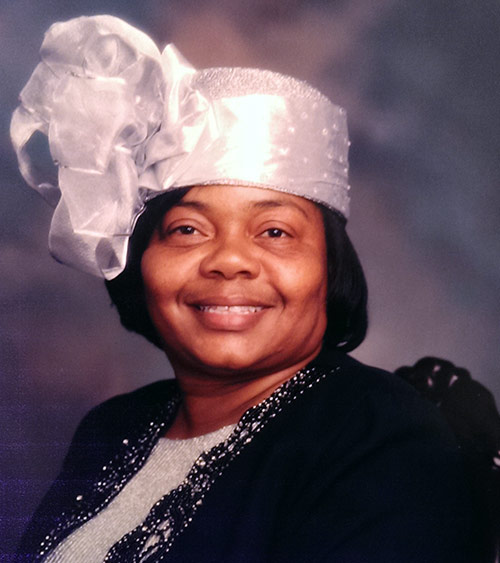 February 19, 1948 ~ April 20, 2018
Strength and dignity are her clothing, and she laughs at the time to come. She opens her mouth with wisdom, and the teaching of kindness is on her tongue. She looks well to the ways of her household and does not eat the bread of idleness. Her children rise up and call her blessed; her husband also, and he praises her: "Many women have done excellently, but you surpass them all." Charm is deceitful, and beauty is vain, but a woman who fears the Lord is to be praised. Give her of the fruit of her hands, and let her works praise her in the gates.

-Proverbs 31:25-31
Lady Leatha Mae Shackleford Wright, born a jewel to the world on February 19, 1948, transitioned from earth to glory on Friday, April 20, 2018. She was the eldest of eleven children of the late Ben and Trudy Mae Shackleford.
A native of Andrews, South Carolina, she was a proud graduate of Rosemary High School class of 1966 and participated in FHA, library and speech club. She also studied at Horry Georgetown Technical College. She was employed at Oneita Mills before deciding to devote her full attention to raising her children.
Baptized and filled with the Holy Ghost at the age of twelve, she received her foundational training at Hines Chapel Holiness Church under the leadership of the late District Elder David Evans.
On July 11, 1970 she was united in holy matrimony to Marion Edward Wright. Their union was blessed with five children and four beautiful grandchildren.
In 1981 she and her husband founded Emmanuel Temple (now Greater Emmanuel Temple of Grace). Since their humble beginnings, she worked diligently alongside her husband and together they have played an integral role in winning many souls to Christ and the start of new ministries. During her tenure, she served on the Trustee Board, as Church Secretary and President of the Women of Grace Ministries. She founded Women of Choice, a fellowship dedicated to promoting unity and sisterhood. In addition to her duties at her home church, she was the First Lady of the North Carolina District Council and former First Lady of the Northern Philippines District Council, a licensed minister with the North Carolina State Council, an active member of the North Carolina State Council Pastors' and Ministers' Wives Auxiliary and the Pentecostal Assemblies of the World Ministers' Wives Association.
Greatly admired as a woman of wisdom, elegance and grace, she received numerous accolades for her commitment to the church and community including, First Lady of the Month Award by the Christian Career and Business Women of America, Inc. and the prestigious Overflow Woman Award.
Embodying the essence of a Proverbs 31 Woman, these virtues allowed her to encourage and empower all who came in contact with her. She shared a passion for ministering to the needs of every woman, with a special desire in helping ministers' wives and married couples. A phenomenal speaker, writer and altar worker, God gifted her to be an inspiration and spiritual mother to many.
Although Lady Wright was an amazing woman who gave much to the Body of Christ, she ultimately strived to be the best wife, mother and grandmother she could be. She loved her husband and family with all her heart. She will forever be remembered for her genuineness, generosity, beautiful smile, sweet fragrance and even sweeter kisses. Her legacy will be one of faithfulness and love.
Her younger daughter, Felicia Wright, preceded her in death.
Continuing her legacy of love are her husband of 48 years, Bishop Marion E. Wright, Sr.; one daughter, Tuania Wright; sons, Marion (LaNika) Wright, Jr.; Maurice Wright and Adrian (Wilesha) Wright; grandchildren, Adriana, Marion "Mario" Wright III, Payton and Monique.
BE IT RESOLVED an Annual Memorial will be given in honor of Lady Leatha Wright's legacy and proceeds will benefit the Mae and Mary Legacy Foundation, INC. (A Scholarship Fund dedicated to inspiring the advancement of African American careers in medicine) –  visit site.